TOEFL Coaching in New Delhi (National Capital Territory of Delhi, India)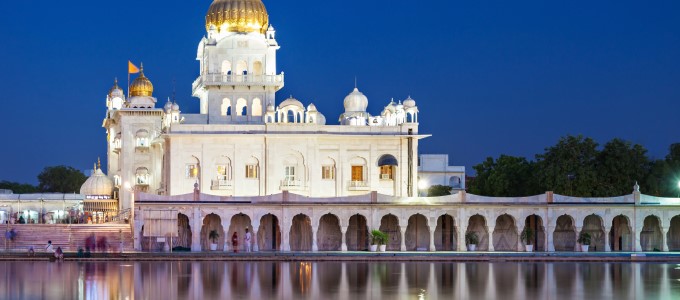 Manhattan Review TOEFL Coaching Centers in New Delhi
The Test of English as a Foreign Language (TOEFL) is the favored English language evaluation at American universities, and the TOEFL is accepted by postsecondary institutions in a variety of other countries. New Delhi residents can attain their degree program's required TOEFL scores with the services provided at Manhattan Review's Coaching Centers. At our New Delhi Coaching Centers, test-takers may select TOEFL study in on-site group course format, one-on-one tutoring format, or interactive online format, whichever is best for their learning requirements. We have also devised highly realistic TOEFL practice tests, which are indistinguishable from the official test. Since Manhattan Review was established in 1999, our teaching has given way to tens of thousands of impressive TOEFL scores and selective university acceptances to institutions such as Princeton, the University of Chicago, Carnegie Mellon, Harvard, Yale, Brown, Swarthmore, the University of Virginia, Notre Dame, MIT, in addition to many more. Get in touch with Manhattan Review in New Delhi by email, phone, or online to learn more about our TOEFL offerings and related services.
TOEFL score requirements differ widely by institution, department, and program, and they can be anywhere from 60 to 110. Regardless of your individual needs and standards, it is highly advisable to work toward target composite scores of 100 and sectional scores of 25 individually. This level of proficiency will be acceptable to the vast majority of selective programs, and these scores convincingly reveal that the candidate can excel in his or her coursework. The language skills instructed in Manhattan Review's TOEFL programs also facilitate the pursuit of careers after completion of university studies. Countless Manhattan Review past international TOEFL clients are now accomplished professionals working for Fortune 500 American companies, such as Berkshire Hathaway, United Continental Holdings, State Farm Insurance, and Prudential Financial. We also have former TOEFL students who are now employed by New Delhi's top businesses, including CK Birla Group, VoiceTree Technologies, National Textile Corporation, Punjab National Bank, as well as Digital Vidya.
Why Manhattan Review TOEFL Coaching Centers are the Best in New Delhi
Manhattan Review is a test prep firm that is primarily committed to helping international students attain top scores. Our New Delhi TOEFL group courses and TOEFL private coaching plans offer professional instruction that focuses on student engagement and the cultivation of higher-order thinking skills. Our TOEFL teachers are much more qualified (and more highly paid) than is typical for the industry, and the best test prep instructors regularly select to work for us. Manhattan Review is the writer and publisher of the TOEFL Integrated Study Guide: Turbocharge Your TOEFL textbook. Used as a reference guide and course text for TOEFL study, this book has aided countless students all over the world in reaching their target TOEFL scores and excel in their university degree offerings. Manhattan Review's programs, teachers, materials, and methods combine to produce a learning experience with results that are unavailable elsewhere. Let us assist you in passing the exam and cultivate English skills that lead to scholastic and professional accomplishment.
About Manhattan Review's Founder Prof. Dr. Joern
Manhattan Review has been the globe's premier international test prep firm since we were established in 1999 by Joern Meissner, a business school professor. Prof. Dr. Meissner earned a diploma in Business Management from the University of Hamburg as well as a PhD in Management Science from Columbia Business School. Over his 25-year teaching career, he has held faculty appointments at the Lancaster University Management School, the University of Hamburg, the Leipzig Graduate School of Management, and the University of Mannheim. He is a published authority on supply chain management, revenue management, and dynamic pricing, and his scholarship has appeared in edited collections and journals. Manhattan Review offers preparation services for all of the major undergraduate and graduate university admission exams, including the TOEFL, IELTS, GRE, GMAT, LSAT, SAT, and ACT. We have coaching centers in New Delhi, many other Indian cities, and in countries around the globe.
TOEFL Private Tutoring
Hours package 12 to 48 hours, Personalized 1-on-1 Tutoring, In Person or Live Online
TOEFL Private Course
12 hours in total, Personalized 1-on-1 Course, In Person or Live Online

The accent reduction section is very effective.
- Nan (This student took our Columbia Business School Communication and Culture boot camp.)
New Delhi
Primary Course Venue:

Sheraton New Delhi
Saket District Centre
New Delhi 110017, India

NOTE: We do NOT typically have staff at the venue, so email us before visiting the venue.
As Seen In