Manhattan Review Coaching Centers in Warangal (Telangana)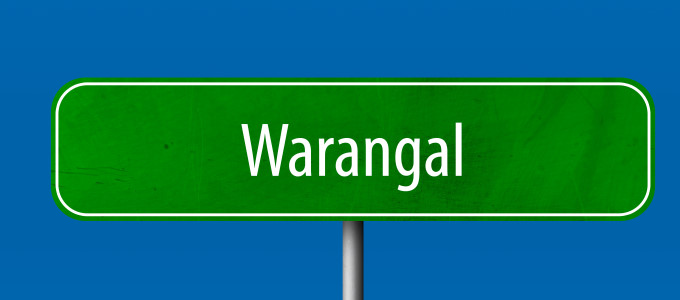 Manhattan Review Prep Services in Warangal
Students in countries around the globe have achieved their expected GMAT, GRE, LSAT, SAT, ACT, IELTS, or TOEFL scores and successfully secured undergraduate or graduate university admission with Manhattan Review's first-rate boutique test prep services. Individual learning plans and ancillary services available at our Coaching Centers in Warangal consist of one-on-one coaching, on-site prep classes, online interactive instruction, in addition to realistic diagnostic practice exams. Manhattan Review's test prep programs focus on versatility because we realize that different students have a variety of learning preferences and needs, and we are committed to serving all types of test prep students with all types of academic goals. Manhattan Review has a proven track record of producing highly favorable test score outcomes that goes all the way back to our company's establishment in 1999, and our instructional programs are specifically architected for international applicants to universities in English-speaking countries. Therefore, we are the ideal test prep resource for Warangal students wishing to pursue postsecondary degrees in the United States, Canada, United Kingdom, Australia, New Zealand, as well as other countries. Find out more about Manhattan Review's test prep services by emailing, phoning, or contacting our Warangal Prep Center.
Manhattan Review students regularly cultivate the test scores required for admission to elite graduate or undergraduate programs in the liberal arts or sciences. Our previous test prep clients in Warangal and other regions have been admitted to exemplary institutions such as the University of Oxford, Princeton University, Stanford University, Johns Hopkins University, Dartmouth College, the University of California-Berkeley, the University of Pennsylvania, the University of Cambridge, King's College London, Harvard University, Columbia University, the National Institute of Technology Warangal, Yale University, and many, many more. After graduating from these fine institutions, our former test prep students have gone on to rewarding and fulfilling careers at Fortune 500 companies, businesses in Warangal, government agencies around the world, and many types of organizations in the non-profit arena. Manhattan Review's test prep instruction assists our students in executing their long-term plans for the future.
Manhattan Review chose Warangal (Telangana's second-largest city) partially due to its exciting, bustling, and building community of businesses. Notable firms in the city include SVAPPS Software Solutions (a website development and hosting company), Harshitha Granites and Minerals (a mining company), Andhra Pradesh Grameena Vikas Bank (a regional financial institution), and the Telangana State Northern Power Distribution Company (the state-owned distributor of electricity). The Government of Telangana has established a Special Economic Zone (SEZ) for IT in the Warangal neighborhood of Madikonda, which houses innovative tech start-ups such as ShopitSoon.com. The worldwide firm Cyient began building a Technology Development Centre in the Madikonda SEZ in 2017, and the company also operates at Warangal's Telangana State Industrial Infrastructure Corporation Incubation Centre.
Warangal is also a highly favorable locale for postsecondary education. The National Institute of Technology, Warangal (NIT Warangal) is a public engineering college that has been ranked among the best such institutions in India. Kakatiya University, with an enrollment of 100,000 students, is the city's largest. Additionally, healthcare training is available at the university's Kakatiya Medical College, which provides a Bachelor of Medicine, Bachelor of Surgery, Doctor of Medicine, as well as several other enviable degree programs. The Kakatiya Institute of Science and Technology specializes in computer science, engineering, and information technology. Other local postsecondary institutions include Vaagdevi College of Engineering (which is known for its collaborations with industry, foreign universities, and numerous other international and national organizations) in addition to SR Engineering College (which is affiliated with Jawaharlal Nehru Technological University). Manhattan Review is proud to be a part of Warangal's community of educators.
Why Manhattan Review Test Prep Coaching Centers are the Best in Warangal
Warangal students consistently enhance their test scores and increase their university admissions prospects at Manhattan Review's Coaching Centers. All of our test prep curricula are taught by the region's most qualified educators, who use their impressive credentials and meaningful amounts of experience to help their students excel. Manhattan Review's course materials and instructional methodologies engage our students and cultivate stronger academic skills in all areas pertinent to the test. Manhattan Review's Coaching Centers in Warangal and other cities have been proven to be highly effective, helping thousands of students receive upper-percentile test scores and gain acceptance to elite postsecondary institutions. We provide customized and differentiated instruction designed to fulfill the individual learning requirements of our test prep students, giving way to better testing performance while promoting better all-around academic abilities. Manhattan Review's textbooks on standardized exams are not only used but revered by test-takers worldwide.
The Famous Manhattan Review 'Turbocharge Your Prep' Series is Considered the Most Comprehensive and Effective Coaching Material Available
Manhattan Review's Turbocharge Your Prep books provide professional study assistance and reference guidance for more effective test preparation. The full Turbocharge Your Prep series includes 16 books for GMAT prep (6th Edition), 13 books for GRE prep (3rd Edition), 12 books for SAT prep (2nd Edition), and 6 books for ACT prep, and guides for the TOEFL and IELTS have also been published. Our books provide thorough coverage of all test sections, exercises, and skills to help students secure optimal testing results. Manhattan Review's prep volumes deconstruct the different test sections in a complete and concise manner, teaching readers all they need to know in order to be successful. Series guides span sectional testing subjects at the beginning, intermediate, and advanced levels, making them ideal resources for the entire test prep learning process. Manhattan Review's Turbocharge Your Prep produces test-takers who are knowledgeable, confident, and ready to achieve their desired scores on undergraduate or graduate university admission exams.
About Manhattan Review's Founder Prof. Dr. Joern Meissner
With a breadth of experience as a test prep instructor and business school professor, Joern Meissner is a well-rounded career educator who has been in the field for more than a quarter-century. His diploma in Business Management was completed at the University of Hamburg, where he then went on to earn a PhD in Management Science from Columbia Business School. He has taught core and elective MBA courses at the University of Hamburg, the Leipzig Graduate School of Management, Lancaster University Management School, and the University of Mannheim. Prof. Dr. Meissner's research centers around supply chain management, dynamic pricing, and revenue management, and his ideas have influenced business practices in each of those areas. Manhattan Review's test prep programs for the GMAT, GRE, LSAT, ACT, SAT, IELTS, and TOEFL were developed from Prof. Dr. Meissner's original lectures, and they all utilize his accessible approach to test prep instruction. Prof. Dr. Meissner also offers continuing education classes for business executives.
GMAT
GMAT In-Person Classic
28 hours in total, Class Course, In Person
Start: Oct 01, 2023

End: Nov 19, 2023

6 days left to start

Sundays

03:00 PM - 06:30 PM

(Local Time)
Start: Oct 14, 2023

End: Dec 02, 2023

19 days left to start

Saturdays

12:00 PM - 03:30 PM

(Local Time)

$1,590.00

$1,490.00

Early Booker
Start: Oct 29, 2023

End: Dec 17, 2023

34 days left to start

Sundays

03:00 PM - 06:30 PM

(Local Time)

$1,590.00

$1,490.00

Early Booker
Start: Nov 11, 2023

End: Dec 30, 2023

47 days left to start

Saturdays

12:00 PM - 03:30 PM

(Local Time)

$1,590.00

$1,490.00

Early Booker
GMAT Private Tutoring
Hours package 12 to 48 hours, Personalized 1-on-1 Tutoring, In Person or Live Online
GMAT Private Course
12 hours in total, Personalized 1-on-1 Course, In Person or Live Online
TOEFL
TOEFL In-Person Classic
28 hours in total, Class Course, In-Person
Start: Oct 01, 2023

End: Nov 19, 2023

6 days left to start

Sundays

03:00 PM - 06:30 PM

(Local Time)
Start: Oct 14, 2023

End: Dec 02, 2023

19 days left to start

Saturdays

12:00 PM - 03:30 PM

(Local Time)

$1,590.00

$1,490.00

Early Booker
Start: Oct 29, 2023

End: Dec 17, 2023

34 days left to start

Sundays

03:00 PM - 06:30 PM

(Local Time)

$1,590.00

$1,490.00

Early Booker
Start: Nov 11, 2023

End: Dec 30, 2023

47 days left to start

Saturdays

12:00 PM - 03:30 PM

(Local Time)

$1,590.00

$1,490.00

Early Booker
TOEFL Private Tutoring
Hours package 12 to 48 hours, Personalized 1-on-1 Tutoring, In Person or Live Online
TOEFL Private Course
12 hours in total, Personalized 1-on-1 Course, In Person or Live Online
GRE
GRE In-Person Classic
28 hours in total, Class Course, In Person
Start: Oct 01, 2023

End: Nov 19, 2023

6 days left to start

Sundays

03:00 PM - 06:30 PM

(Local Time)
Start: Oct 14, 2023

End: Dec 02, 2023

19 days left to start

Saturdays

12:00 PM - 03:30 PM

(Local Time)

$1,590.00

$1,490.00

Early Booker
Start: Oct 29, 2023

End: Dec 17, 2023

34 days left to start

Sundays

03:00 PM - 06:30 PM

(Local Time)

$1,590.00

$1,490.00

Early Booker
Start: Nov 11, 2023

End: Dec 30, 2023

47 days left to start

Saturdays

12:00 PM - 03:30 PM

(Local Time)

$1,590.00

$1,490.00

Early Booker
GRE Private Tutoring
Hours package 12 to 48 hours, Personalized 1-on-1 Tutoring, In Person or Live Online
GRE Private Course
12 hours in total, Personalized 1-on-1 Course, In Person or Live Online
SAT
SAT In-Person Classic
28 hours in total, Class Course, In-Person
Start: Sep 30, 2023

End: Nov 18, 2023

5 days left to start

Saturdays

12:00 PM - 03:30 PM

(Local Time)
Start: Oct 15, 2023

End: Dec 03, 2023

20 days left to start

Sundays

03:00 PM - 06:30 PM

(Local Time)

$1,590.00

$1,490.00

Early Booker
Start: Oct 28, 2023

End: Dec 16, 2023

33 days left to start

Saturdays

12:00 PM - 03:30 PM

(Local Time)

$1,590.00

$1,490.00

Early Booker
Start: Nov 12, 2023

End: Dec 31, 2023

48 days left to start

Sundays

03:00 PM - 06:30 PM

(Local Time)

$1,590.00

$1,490.00

Early Booker
SAT Private Tutoring
Hours package 12 to 48 hours, Personalized 1-on-1 Tutoring, In Person or Live Online
SAT Private Course
12 hours in total, Personalized 1-on-1 Course, In Person or Live Online
LSAT
LSAT In-Person Classic
28 hours in total, Class Course, In-Person
Start: Oct 01, 2023

End: Nov 19, 2023

6 days left to start

Sundays

03:00 PM - 06:30 PM

(Local Time)
Start: Oct 14, 2023

End: Dec 02, 2023

19 days left to start

Saturdays

12:00 PM - 03:30 PM

(Local Time)

$1,590.00

$1,490.00

Early Booker
Start: Oct 29, 2023

End: Dec 17, 2023

34 days left to start

Sundays

03:00 PM - 06:30 PM

(Local Time)

$1,590.00

$1,490.00

Early Booker
Start: Nov 11, 2023

End: Dec 30, 2023

47 days left to start

Saturdays

12:00 PM - 03:30 PM

(Local Time)

$1,590.00

$1,490.00

Early Booker
LSAT Private Tutoring
Hours package 12 to 48 hours, Personalized 1-on-1 Tutoring, In Person or Live Online
LSAT Private Course
12 hours in total, Personalized 1-on-1 Course, In Person or Live Online
ACT
ACT In-Person Classic
28 hours in total, Class Course, In-Person
Start: Sep 30, 2023

End: Nov 18, 2023

5 days left to start

Saturdays

12:00 PM - 03:30 PM

(Local Time)
Start: Oct 15, 2023

End: Dec 03, 2023

20 days left to start

Sundays

03:00 PM - 06:30 PM

(Local Time)

$1,590.00

$1,490.00

Early Booker
Start: Oct 28, 2023

End: Dec 16, 2023

33 days left to start

Saturdays

12:00 PM - 03:30 PM

(Local Time)

$1,590.00

$1,490.00

Early Booker
Start: Nov 12, 2023

End: Dec 31, 2023

48 days left to start

Sundays

03:00 PM - 06:30 PM

(Local Time)

$1,590.00

$1,490.00

Early Booker
ACT Private Tutoring
Hours package 12 to 48 hours, Personalized 1-on-1 Tutoring, In Person or Live Online
ACT Private Course
12 hours in total, Personalized 1-on-1 Course, In Person or Live Online
IELTS
IELTS In-Person Classic
28 hours in total, Class Course, In-Person
Start: Sep 30, 2023

End: Nov 18, 2023

5 days left to start

Saturdays

12:00 PM - 03:30 PM

(Local Time)
Start: Oct 15, 2023

End: Dec 03, 2023

20 days left to start

Sundays

03:00 PM - 06:30 PM

(Local Time)

$1,590.00

$1,490.00

Early Booker
Start: Oct 28, 2023

End: Dec 16, 2023

33 days left to start

Saturdays

12:00 PM - 03:30 PM

(Local Time)

$1,590.00

$1,490.00

Early Booker
Start: Nov 12, 2023

End: Dec 31, 2023

48 days left to start

Sundays

03:00 PM - 06:30 PM

(Local Time)

$1,590.00

$1,490.00

Early Booker
IELTS Private Tutoring
Hours package 12 to 48 hours, Personalized 1-on-1 Tutoring, In Person or Live Online
IELTS Private Course
12 hours in total, Personalized 1-on-1 Course, In Person or Live Online
SSAT
SSAT In-Person Classic
28 hours in total, Class Course, In-Person
Start: Sep 30, 2023

End: Nov 18, 2023

5 days left to start

Saturdays

12:00 PM - 03:30 PM

(Local Time)
Start: Oct 15, 2023

End: Dec 03, 2023

20 days left to start

Sundays

03:00 PM - 06:30 PM

(Local Time)

$1,590.00

$1,490.00

Early Booker
Start: Oct 28, 2023

End: Dec 16, 2023

33 days left to start

Saturdays

12:00 PM - 03:30 PM

(Local Time)

$1,590.00

$1,490.00

Early Booker
Start: Nov 12, 2023

End: Dec 31, 2023

48 days left to start

Sundays

03:00 PM - 06:30 PM

(Local Time)

$1,590.00

$1,490.00

Early Booker
SSAT Private Tutoring
Hours package 12 to 48 hours, Personalized 1-on-1 Tutoring, In Person or Live Online
SSAT Private Course
12 hours in total, Personalized 1-on-1 Course, In Person or Live Online
ISEE
ISEE In-Person Classic
28 hours in total, Class Course, In-Person
Start: Oct 01, 2023

End: Nov 19, 2023

6 days left to start

Sundays

03:00 PM - 06:30 PM

(Local Time)
Start: Oct 14, 2023

End: Dec 02, 2023

19 days left to start

Saturdays

12:00 PM - 03:30 PM

(Local Time)

$1,590.00

$1,490.00

Early Booker
Start: Oct 29, 2023

End: Dec 17, 2023

34 days left to start

Sundays

03:00 PM - 06:30 PM

(Local Time)

$1,590.00

$1,490.00

Early Booker
Start: Nov 11, 2023

End: Dec 30, 2023

47 days left to start

Saturdays

12:00 PM - 03:30 PM

(Local Time)

$1,590.00

$1,490.00

Early Booker
ISEE Private Tutoring
Hours package 12 to 48 hours, Personalized 1-on-1 Tutoring, In Person or Live Online
ISEE Private Course
12 hours in total, Personalized 1-on-1 Course, In Person or Live Online
EA
EA In-Person Classic
28 hours in total, Class Course, In-Person
Start: Oct 01, 2023

End: Nov 19, 2023

6 days left to start

Sundays

03:00 PM - 06:30 PM

(Local Time)
Start: Oct 14, 2023

End: Dec 02, 2023

19 days left to start

Saturdays

12:00 PM - 03:30 PM

(Local Time)

$1,590.00

$1,490.00

Early Booker
Start: Oct 29, 2023

End: Dec 17, 2023

34 days left to start

Sundays

03:00 PM - 06:30 PM

(Local Time)

$1,590.00

$1,490.00

Early Booker
Start: Nov 11, 2023

End: Dec 30, 2023

47 days left to start

Saturdays

12:00 PM - 03:30 PM

(Local Time)

$1,590.00

$1,490.00

Early Booker
EA Private Tutoring
Hours package 12 to 48 hours, Personalized 1-on-1 Tutoring, In Person or Live Online
EA Private Course
12 hours in total, Personalized 1-on-1 Course, In Person or Live Online
HiSET
HiSET In-Person Classic
28 hours in total, Class Course, In-Person
Start: Sep 30, 2023

End: Nov 18, 2023

5 days left to start

Saturdays

12:00 PM - 03:30 PM

(Local Time)
Start: Oct 15, 2023

End: Dec 03, 2023

20 days left to start

Sundays

03:00 PM - 06:30 PM

(Local Time)

$1,590.00

$1,490.00

Early Booker
Start: Oct 28, 2023

End: Dec 16, 2023

33 days left to start

Saturdays

12:00 PM - 03:30 PM

(Local Time)

$1,590.00

$1,490.00

Early Booker
Start: Nov 12, 2023

End: Dec 31, 2023

48 days left to start

Sundays

03:00 PM - 06:30 PM

(Local Time)

$1,590.00

$1,490.00

Early Booker
HiSET Private Tutoring
Hours package 12 to 48 hours, Personalized 1-on-1 Tutoring, In Person or Live Online
HiSET Private Course
12 hours in total, Personalized 1-on-1 Course, In Person or Live Online

Just wanted to let you know how happy I am that you matched me with Brian to help me with my GMAT. He is an AMAZING tutor. He is super smart and really knows how to teach how to work out the GMAT questions.
- Vihn (This student took GMAT our tutoring in Florida)
Warangal
Course Venue: Warangal, Telangana, India
As Seen In