TOEFL Coaching in Hyderabad (Telangana, India)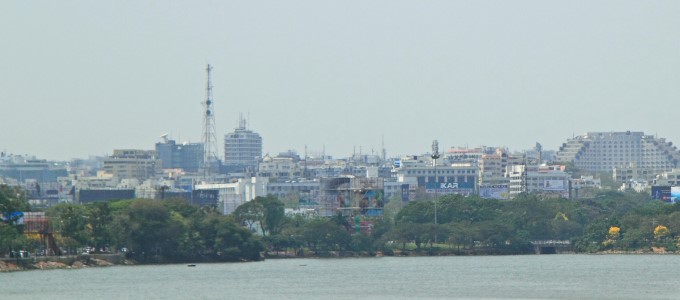 Manhattan Review TOEFL Coaching Centers in Hyderabad
Manhattan Review's Coaching Centers in Hyderabad help applicants to graduate or undergraduate programs at universities in the English-speaking world can succeed and conquer the Test of English as a Foreign Language (TOEFL). Our Hyderabad Coaching Centers offer TOEFL study in a variety of ways: on-site group course format, individual one-on-one coaching, and online. Students preparing for the TOEFL in Hyderabad can choose the TOEFL learning plan that most closely accommodates their score goals, degree program requirements, and English language learning needs. We are also the area's best provider of realistically simulated TOEFL practice tests, which mimic the content, timing, and structure of the actual TOEFL experience. Since we first opened our doors in 1999, Manhattan Review has helped thousands of students achieve high test scores and attend select universities in major cities all over the world. Our test prep clients have repeatedly achieved the top TOEFL scores required for admittance into great schools around the globe such as Stanford, Princeton, the California Institute of Technology, Carnegie Mellon, the University of Pennsylvania, Dartmouth, Yale, Columbia, Northwestern, the Massachusetts Institute of Technology, and the University of California-Berkeley. Get started on Hyderabad's most effective TOEFL prep today by getting in touch with Manhattan Review for more information on our professional coaching services.
The TOEFL is regarded as one of the world's most popular evaluations of English abilities in prospective university students. The exam is widely accepted at universities in English-speaking countries, and is the only English proficiency exam that some American universities will actually consider. Required TOEFL scores for admission to postsecondary degree programs can range from a low of 60 to a high of 110, largely depending on the selectivity and subject-matter emphasis of a given degree offering. At Manhattan Review, we advise our TOEFL students to set target total scores of 100 and sectional scores of 25 each. This level of proficiency will no doubt be acceptable to most programs, and these scores are indicative of an English language skillset that is sufficient for major success in university coursework. Manhattan Review's TOEFL services also help in establishing foundational language abilities that facilitate students to pursue careers after they finish school. Thousands of our past international TOEFL clients are now successfully working for Fortune 500 American companies, including State Farm Insurance, JP Morgan Chase, Microsoft, Lockheed Martin, and CVS Health.
Why Manhattan Review TOEFL Coaching Centers are the Best in Hyderabad
Anyone familiar with Manhattan Review's reputation should know the quality and effectiveness of our Hyderabad TOEFL group courses and TOEFL private coaching cannot be obtained from any other firm on the market. No other test prep company has more experience teaching American standardized tests to non-American students, and our level of success with international test-takers is unparalleled. Manhattan Review's Hyderabad Coaching Centers consist of the area's most qualified TOEFL classroom instructors and individual coaches. Our TOEFL educators are graduates of elite universities with a vast array of teaching experience and engaging, appealing styles and methods of instruction. Manhattan Review's TOEFL coaching services in Hyderabad also feature generous student support from our helpful and friendly local staff. Manhattan Review is the author and publisher of the TOEFL Integrated Study Guide: Turbocharge Your TOEFL textbook, which is utilized as a course text and reference guide for TOEFL study. This book has served as a guide for countless students all over the world to reach their target TOEFL scores and succeed in their university degree programs.
About Manhattan Review's Founder Prof. Dr. Joern
Manhattan Review CEO and founder, Joern Meissner, holds a diploma in Business Management from the University of Hamburg and a PhD in Management Science from Columbia Business School. Meissner is a professional educator with more than 25 years of experience, and has taught business courses at the University of Hamburg, Lancaster University Management School, the Leipzig Graduate School of Management, in addition to the University of Mannheim. He has published a great deal of scholarly research on revenue management, dynamic pricing, and supply chain management to much acclaim by his peers. Prof. Dr. Meissner founded Manhattan Review in 1999 and since it has grown into the world's top international educational services company, serving major cities around the world with TOEFL, ACT, SAT, GMAT, GRE, LSAT, and IELTS preparation in a variety of convenient, accessible and flexible learning formats. Prof. Dr. Meissner finds his scholarly work to be highly fulfilling, but he has long understood that teaching ideas to others is even more rewarding. This philosophy was important to the founding of Manhattan Review, and it continues to inform our every action as educators.
TOEFL Private Tutoring
Hours package 12 to 48 hours, Personalized 1-on-1 Tutoring, In Person or Live Online
TOEFL Private Course
12 hours in total, Personalized 1-on-1 Course, In Person or Live Online

Helpful! Very thorough.
- Kate (This student took our Negotiation and Decision Making Seminar.)
Hyderabad
Primary Course Venue:

Manhattan Review India – Andhra Pradesh, Hyderabad
402, Sundheer Tappani Towers
No 3-6-271
Opp: Telegu Academy
Andhra Pradesh, Hyderabad - 500 029

Manhattan Review India – Madhapur, Hyderabad
1-98/90/24/1/1, KSR Towers
(Beside Indian Oil Petrol Bunk)
Hitech City Road
Madhapur, Hyderabad – 500 081

NOTE: We do NOT typically have staff at the venue, so email us before visiting the venue.
As Seen In