Manhattan Review Scam in India
It has come to our attention that a scam operation poses as Manhattan Review in India. Customers are warned that this is not a sanctioned operation by Manhattan Review New York, so you will not get the quality instruction that is generally associated with Manhattan Review. Further, this fraudulent entity has started to offer "franchise opportunities." Please note that you are very likely to lose all investment if you engage with such a counterfeit operation that has no right to use the Manhattan Review name. We maintain a Manhattan Review India Scam FAQ, please visit there for further information.
IELTS Prep Courses in Mumbai (Maharashtra, India)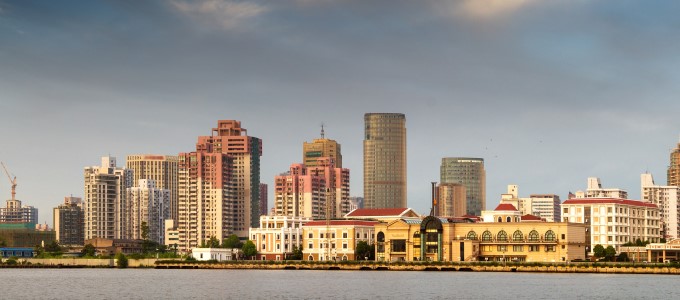 Manhattan Review IELTS Prep in Mumbai
The International English Language Testing System (IELTS) academic test may be used to meet language requirements at universities in the United Kingdom as well as many other countries. Students who are required to pass the IELTS evaluation can achieve higher scores in addition to stronger language abilities through the instruction provided at Manhattan Review's Mumbai Coaching Centers. Our Mumbai IELTS instruction may be taken in on-site or online formats, including on-site IELTS group classes, online IELTS study in several formats, as well as private IELTS coaching, and we also offer IELTS practice exams. Manhattan Review is an international educational services company that has been producing elite test scores and acceptance to selective universities since our early beginnings in 1999. Mumbai (previously Bombay) is one of the many world cities that we serve, and the diversity of our student body positively impacts the quality of our instruction. Find out how you can get going on IELTS group study or IELTS individual coaching by contacting Manhattan Review in Mumbai. We can help you determine which learning plan is best for your learning schedule and needs.
The IELTS academic exam is accepted by all universities in the United Kingdom, and its acceptance in other English-speaking countries is widespread (though not universal). IELTS score reporting makes use of the band system, which is a scale of 0 to 9 in half-point increments. Most universities anticipate IELTS scores of 5.0 to 7.5, and where a given program requirement falls in this range is mainly a function of selectivity and prestige. Manhattan Review's IELTS prep classes and private coaching have led to passing IELTS scores at elite schools such as the London School of Economics, the University of Cambridge, the University of Oxford, University College London, the University of Leeds, as well as many other top institutions in several other countries. Some of Manhattan Review's former IELTS coaching clients now have important jobs with Mumbai's top firms, including Unichem Laboratories, Aditya Birla Group, Tata Group, Bombay Oil Industries, and Piramal Group. Others have opted for positions at Fortune 500 companies, such as Berkshire Hathaway, State Farm Insurance, CVS Health, Wells Fargo, and Enterprise Products Partners.
Why Manhattan Review IELTS Prep Centers are the Best in Mumbai
There are countless IELTS resources available to Mumbai students, but Manhattan Review's IELTS programs provide the highest possible quality in every aspect of the IELTS learning process. Manhattan Review has devised and implemented engaging methods of instruction that accommodate all styles of learning, and we have spent many years continuing to refine the ways that we instruct test prep. Manhattan Review's Mumbai IELTS teachers have more experience with IELTS prep than any other local firm, but they are also very passionate about aiding students in achieving their goals and aspirations for the IELTS. Manhattan Review's Turbocharge Your Prep series is a thorough resource for IELTS reference and study, and these volumes are widely used at our centers around the globe and by the general public. Manhattan Review's student support professionals work endlessly day in and day out to provide our students and our educators with everything necessary for effective IELTS learning. No other test prep firm in Mumbai (or anywhere else) can match the quality of our teachers, course offerings, methodologies, materials, as well as support.
About Manhattan Review's Founder Prof. Dr. Joern Meissner
Manhattan Review was created in 1999 in New York City by Joern Meissner, who had some cutting-edge ideas about enhancing test preparation. The company's test prep courses soon became widely popular with students, and the firm is now the globe's leading resource for IELTS, GMAT, GRE, LSAT, TOEFL, ACT, and SAT preparation. Over the past 25 years, Joern has been concurrently pursuing a career as a business school professor. He has taught at Lancaster University Management School, the University of Mannheim, and the Leipzig Graduate School of Management. Meissner's education was completed at the University of Hamburg (diploma in Business Management) and Columbia Business School (PhD in Management Science). He has published articles and chapters in edited published assortments on management topics such as pricing strategy, dynamic pricing, and revenue management, and has taught continuing education classes to business executives.
Mumbai
Primary Course Venue:

Grand Hyatt Mumbai
Off Western Express Highway
Pipeline Road
Mumbai (Bombay) 400055, India

NOTE: We do NOT typically have staff at the venue, so email us before visiting the venue.