IELTS Coaching in Hyderabad (Telangana, India)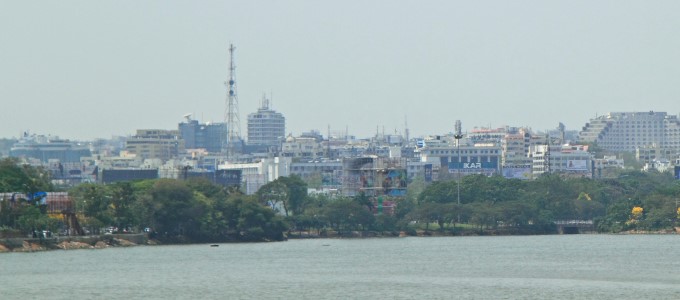 Manhattan Review IELTS Coaching Centers in Hyderabad
Manhattan Review Coaching Centers offer Hyderabad's most comprehensive, reliable, and esteemed preparation services for the International English Language Testing System (IELTS) examination. Rigorous instruction in IELTS content skills, testing strategies, and study techniques is one of many advantages Hyderabad students have in studying with Manhattan Review. We offer a number of distinct and flexible formats, the wide variety including on-site IELTS prep classes, private one-on-one IELTS coaching, and IELTS learning plans for those students who prefer an online interactive format. All Hyderabad test-takers benefit greatly from our authentic IELTS practice tests, which provide high accuracy in assessment value and authentic data points in the creation and execution of study plans. Manhattan Review was founded in 1999 and is the world's best test prep company for international students. It's no surprise that our services are used by undergraduate and graduate university applicants from all over the world, facilitating admittance to the universities of people's dreams. Manhattan Review's test prep clients have been accepted to world-class institutions such as Cambridge, Oxford, University College London, the University of Edinburgh, the University of Warwick, Harvard, MIT, Stanford, Johns Hopkins, the University of Pennsylvania, and many more.
The IELTS is a widely respected assessment of reading, writing, speaking, and listening skills for non-native English speakers. The academic test is intended for university applicants, while the general training test is used to qualify for immigration visas and for other professional purposes. The IELTS speaking portion on the exam does not have to be taken on the same day as the other sections, and this is one of the test's unique advantages. IELTS score expectations at universities most commonly range from a low of 5.0 to a high of 7.5 (on a scale of 0 to 9). The vast majority of universities in English-speaking countries will regard the IELTS as proof of English proficiency, even though the test is more commonly accepted in the United Kingdom and its correlating countries. It's well regarded that Manhattan Review's IELTS private coaching and IELTS courses prepare our students for postsecondary study as well as professional success after graduation. Many of our former test prep learners are now successful working professionals employed in top organizations around the world, including Hyderabad firms such as TruJet, Navayuga Infotech, Aurobindo Pharma, and Tata Business Support Systems.
Why Manhattan Review IELTS Coaching Centers are the Best in Hyderabad
Manhattan Review's IELTS instruction in group course and individual coaching layouts consist of innovative instructional methodologies, highly qualified instructors, comprehensive and informative course materials, as well as plentiful student support and ancillary services. Criteria that Manhattan Review uses to evaluate teacher candidates not only includes test scores, university education, but prior teaching experience and teaching style. We take on IELTS educators who excel in all of these areas, offering our students well-rounded coaches who excel in our unique brand of instruction. Our various methods of instruction are rooted in student engagement, macro-level thinking, and differentiation to facilitate all distinct styles of learning. The Turbocharge Your Prep series of test prep books was written and published by Manhattan Review, and our students use these volumes as study and reference guides, in addition to helpful course texts. Manhattan Review's student support professionals are critical to all of our programs, as these dedicated men and women provide students and teachers with all they require for learning experiences of maximum effectiveness.
About Manhattan Review's Founder Prof. Dr. Joern Meissner
Joern Meissner founded Manhattan Review in New York City in 1999 when he was a doctoral student at Columbia University, one of the top Ivy League schools. Prof. Dr. Meissner has been a business school professor, academic, and test prep educator for over 25 years. He has taught at postsecondary institutions such as the University of Hamburg, Lancaster University Management School, the Leipzig Graduate School of Management, and the University of Mannheim. In addition to his PhD in Management Science from Columbia, he also holds a degree in Business Management from the University of Hamburg. He has published influential research on revenue management, dynamic pricing, and supply chain management in a number of the field's most prestigious journals. Prof. Dr. Meissner is the creator of Manhattan Review original test prep lectures, and his efforts quickly expanded into a global educational services company offering IELTS, TOEFL, SAT, ACT, LSAT, GMAT, and GRE instruction in practical, accessible, and flexible formats to students in major cities all over the world. Even though Prof. Dr. Meissner is an accomplished and renowned scholar, he considers his duties as an educator to be even more important. The essential notion of scholarship in the service of teaching has guided Manhattan Review's every action as an organization and continue to remain a focal point in its philosophy today.
IELTS Private Tutoring
Hours package 12 to 48 hours, Personalized 1-on-1 Tutoring, In Person or Live Online
IELTS Private Course
12 hours in total, Personalized 1-on-1 Course, In Person or Live Online
Hyderabad
Primary Course Venue:

Manhattan Review India – Andhra Pradesh, Hyderabad
402, Sundheer Tappani Towers
No 3-6-271
Opp: Telegu Academy
Andhra Pradesh, Hyderabad - 500 029

Manhattan Review India – Madhapur, Hyderabad
1-98/90/24/1/1, KSR Towers
(Beside Indian Oil Petrol Bunk)
Hitech City Road
Madhapur, Hyderabad – 500 081

NOTE: We do NOT typically have staff at the venue, so email us before visiting the venue.
As Seen In