Manhattan Review Scam in India
It has come to our attention that a scam operation poses as Manhattan Review in India. Customers are warned that this is not a sanctioned operation by Manhattan Review New York, so you will not get the quality instruction that is generally associated with Manhattan Review. Further, this fraudulent entity has started to offer "franchise opportunities." Please note that you are very likely to lose all investment if you engage with such a counterfeit operation that has no right to use the Manhattan Review name. We maintain a Manhattan Review India Scam FAQ, please visit there for further information.
IELTS Prep Courses in Chennai (Tamil Nadu, India)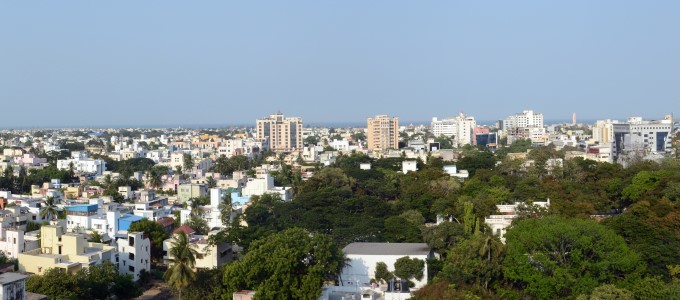 Manhattan Review IELTS Prep in Chennai
Students looking to take the International English Language Testing System (IELTS) evaluations can attain high scores and stronger language skills with Manhattan Review's engaging and effective IELTS instruction in Chennai. We offer IELTS group classes, private IELTS coaching, and various types of online IELTS study, and we also offer realistic IELTS practice exams. Manhattan Review is a worldwide educational services company that has facilitated elite test scores and acceptance to selective universities for countless students around the globe. Chennai is one of the many major cities that we serve, and the diversity of our student body is one of our greatest strengths as an educational organization. Get going on Manhattan Review's IELTS group study or IELTS one-on-one coaching today by contacting our Chennai office for specifics on course features, information about course scheduling, as well as answers to all of your questions.
Students seeking university admission are required to take the IELTS academic test rather than the general training exam. The IELTS is widely accepted by postsecondary institutions in the United Kingdom, and it is widely accepted in other major English-speaking countries. Sectional and composite IELTS score reporting is on a range of 0 to 9 in half-point increments. The passing score range for the bulk of universities is between 5.0 and 7.5, depending on the selectivity of a given academic program or department. Manhattan Review's IELTS prep courses and private coaching have helped produce successful applicants to elite schools such as the University of Oxford, the London School of Economics, the University of Cambridge, the University of Warwick, London Business School, University College London, in addition to many other top institutions in several other countries. Some of Manhattan Review's past IELTS coaching clients are now gainfully employed by prestigious Chennai firms, including Amara Muzik, Funskool, Naihaa, and Sundaram-Clayton Limited, and others have been hired by Fortune 500 companies such as Walgreens Boots Alliance, Prudential Financial, United Continental Holdings, and Express Scripts Holding.
Why Manhattan Review IELTS Prep Centers are the Best in Chennai
Manhattan Review was founded through our leader's creation of engaging methodologies of instruction that focus on higher-order thinking and accessibility, methods that we have continued to refine in consultation with venerated educational researchers. Manhattan Review's Chennai IELTS classroom educators and private coaches have countless years of experience helping students succeed on the IELTS evaluations, and just as importantly, they are all passionate teachers with truly appealing classroom styles. Manhattan Review's Turbocharge Your Prep series of test prep books are widely respected by our students and by the larger educational community, and they are vastly used as study aids and reference works. Manhattan Review employs a committed cadre of student support professionals, who work to ensure that both students and teachers have all they need for truly optimal teaching and learning. Manhattan Review's IELTS programs offer quality, versatility, and proven results that no other company can rightfully claim.
About Manhattan Review's Founder Prof. Dr. Joern Meissner
Manhattan Review founder Joern Meissner has held faculty appointments at the University of Hamburg, the Leipzig Graduate School of Management, Lancaster University Management School, as well as and the University of Mannheim over a 25-year career as a postsecondary instructor. He is an alumnus of the University of Hamburg and Columbia Business School, where he earned a diploma in Business Management and a Doctor of Philosophy in Management Science, respectively. His academic research zeroes in on dynamic pricing, supply chain management, and revenue management, and a consistent theme of his work is the use of mathematical optimization strategies. Manhattan Review provides IELTS, TOEFL, ACT, SAT, GMAT, GRE, and LSAT preparation in several distinct learning formats and layouts to thousands of students all over the world. Prof. Dr. Meissner has also created continuing education courses for business executives and business English courses for international students.
Chennai
Primary Course Venue:

Sheraton Park Hotel & Towers
T.T. Krishnamachari Road
Chennai (Madras) 600018, India

NOTE: We do NOT typically have staff at the venue, so email us before visiting the venue.