Manhattan Review Scam in India
It has come to our attention that a scam operation poses as Manhattan Review in India. Customers are warned that this is not a sanctioned operation by Manhattan Review New York, so you will not get the quality instruction that is generally associated with Manhattan Review. Further, this fraudulent entity has started to offer "franchise opportunities." Please note that you are very likely to lose all investment if you engage with such a counterfeit operation that has no right to use the Manhattan Review name. We maintain a Manhattan Review India Scam FAQ, please visit there for further information.
IELTS Prep Courses in Bangalore (Karnataka, India)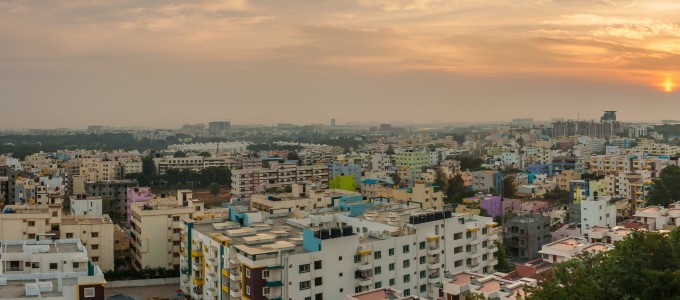 Manhattan Review IELTS Prep in Bangalore
Students obliged to pass the International English Language Testing System (IELTS) evaluation can attain higher scores and stronger language abilities through the instruction provided at Manhattan Review's Bangalore Coaching Center. Our Bangalore IELTS instruction may be taken in on-site or online formats, including in-person IELTS group courses, several varieties of online IELTS study, and personalized IELTS coaching. Test-takers can also greatly benefit from our IELTS practice assessments, which are indispensable to the learning process. Manhattan Review is an international educational services company that has been producing high test scores and acceptance to selective universities since 1999. Bangalore is one of the many major North American, Asian, African, South American, and European cities that we serve, and the diversity of our student body positively enhances the quality of our teaching. Find out how you can get going on IELTS group study or IELTS individual coaching by getting in touch with Manhattan Review in Bangalore. We can discuss your IELTS requirements and goals on the phone, online, or by email.
Although there is an additional IELTS general training assessment, students seeking university admission must take the IELTS academic exam. The IELTS academic test is accepted by all universities in the United Kingdom, and it is widely accepted in the United States, Canada, Australia, New Zealand, as well as other countries. IELTS score reporting makes use of the band system, which is a range of 0 to 9 in half-point increments. The composite score is the median of all four section scores, rounded up or down to the nearest half-point. Most universities anticipate IELTS scores of 5.0 to 7.5, and where a given program demand falls in this range is largely a function of institutional selectivity. Manhattan Review's IELTS prep courses and one-on-one coaching have led to passing IELTS scores at elite schools such as the London School of Economics, the University of Oxford, the University of Cambridge, the University of Manchester, King's College London, University College London, Johns Hopkins University, Yale University, the University of California-Los Angeles, Harvard University, and many other top institutions in several other countries. Some of Manhattan Review's past IELTS coaching clients have recently taken jobs with Bangalore's top firms, including Stevia World Agrotech, Exide Life Insurance, KineticGlue, Manthan, and iRunway.
Why Manhattan Review's IELTS Coaching Center is the Best in Bangalore
Manhattan Review's IELTS programs provide the highest possible quality in every aspect of the IELTS learning process. Manhattan Review has innovated and implemented engaging methods of instruction that accommodate all styles of learning, and we have spent many years further refining the ways that we instruct test prep. Manhattan Review's Bangalore IELTS instructors have a very large amount of collective experience with IELTS prep, but they are more than just experienced teachers; additionally, they are passionate about assisting students attain their goals for the IELTS, and their styles of teaching are differentiated and accessible. Manhattan Review's Turbocharge Your Prep series is a comprehensive resource for IELTS study and reference, and these volumes are vastly used at our centers around the globe and by the general public. Manhattan Review's student support professionals work endlessly every day to offer our students and our educators with everything necessary for effective IELTS learning.
About Manhattan Review's Founder Prof. Dr. Joern Meissner
Joern Meissner has been instructing test prep and business classes at the university level for over 25 years. Previous faculty appointments include the Leipzig Graduate School of Management, the Lancaster University Management School, and the University of Mannheim, and he is implementing new Pricing Strategy and Revenue Management courses in his current position. His education was completed at the University of Hamburg (diploma in Business Management) and Columbia Business School (PhD in Management Science). A common theme of his academic research is the use of mathematical optimization strategies to further better managerial decision-making. Prof. Dr. Meissner founded Manhattan Review in 1999, and it is now the globe's most effective resource for IELTS, TOEFL, ACT, SAT, GMAT, GRE, and LSAT preparation services in versatile modes of learning. Prof. Dr. Meissner is proud of his contributions as a scholar, but he has always been even more fulfilled by his responsibilities as an educator. This philosophy has always directed Manhattan Review as an organization committed to teaching.
Bangalore
Primary Course Venue:

Sheraton Bangalore At Brigade Gateway
26/1 Dr. Rajkumar Road
Malleswaram-Rajajinagar
Bangalore, Karnataka
560055 India

NOTE: We do NOT typically have staff at the venue, so email us before visiting the venue.