Manhattan Review Scam in India
It has come to our attention that a scam operation poses as Manhattan Review in India. Customers are warned that this is not a sanctioned operation by Manhattan Review New York, so you will not get the quality instruction that is generally associated with Manhattan Review. Further, this fraudulent entity has started to offer "franchise opportunities." Please note that you are very likely to lose all investment if you engage with such a counterfeit operation that has no right to use the Manhattan Review name. We maintain a Manhattan Review India Scam FAQ, please visit there for further information.
IELTS Prep Courses in Hyderabad (Telangana, India)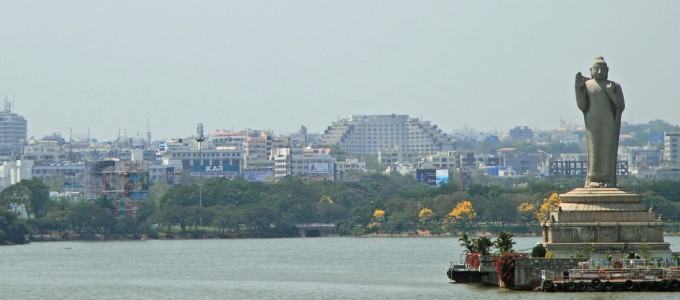 Manhattan Review IELTS Prep in Hyderabad
Students looking to take the International English Language Testing System (IELTS) can achieve high scores and significantly improve their language skills at Manhattan Review's Hyderabad Coaching Centers. Our engaging and highly effective IELTS coaching may be taken in a variety of forms: on-site or online. We offer brick-and-mortar IELTS group courses, one-on-one IELTS coaching, in addition to various types of online IELTS study. Additionally, we also provide realistic IELTS practice tests to give you a better sense of what to expect on test day while also tracking your progress. Manhattan Review is an international educational services firm that has helped students achieve high test scores and acceptance to elite universities for thousands of students worldwide. Hyderabad is one of the many major Asian, North American, African, South American, and European cities that we serve, and the diversity of our student body is one of our greatest strengths. Get started on Manhattan Review's IELTS individual coaching or group study or today by getting in touch with our Hyderabad office. Let's discuss your IELTS needs and goals on the phone, by email, or online.
The IELTS is an exam developed and administered by the British Council, IDP Education, and Cambridge English Language Assessment. Students seeking university admission almost always take the IELTS academic test. Postsecondary institutions in the United Kingdom accept the IELTS and it is widely accepted in other major English-speaking countries. Sectional and composite IELTS score reporting utilizes the band system, which is a range of 0 to 9 in half-point increments. Furthermore, the passing score range for the bulk of universities is between 5.0 and 7.5, depending on the selectivity of a given academic program. Manhattan Review's IELTS prep courses and one-on-one coaching have helped give way to successful applicants wanting to attend elite schools such as Oxford, the University of Edinburgh, Cambridge, the London School of Economics, London Business School, the University of Warwick, the University of Manchester, University College London, as well as many other top institutions in various other countries. Some of Manhattan Review's past IELTS coaching clients are now employed by highly regarded Hyderabad firms, including Tata Business Support Services, GVK, Inno Garage, and Dr. Reddy's Laboratories.
Why Manhattan Review IELTS Coaching Centers are the Best in Hyderabad
The effectiveness of Manhattan Review's IELTS instruction comes from our tireless efforts to ensure the best possible quality in every aspect of our programs. The company was established through our founder's vision of providing engaging methods of instruction that emphasize accessibility and higher-order thinking. We have continued to refine these methods in consultation with professional educators at several levels and educational researchers in the public and private sectors. It should come as no surprise that Manhattan Review's Hyderabad IELTS classroom instructors and private coaches have a multitude experience assisting students in succeeding on the IELTS assessments; just as importantly, all of our coaches are all passionate teachers with appealing classroom styles. Manhattan Review's Turbocharge Your Prep series of test prep books are revered by our students and by the larger educational community, and they are widely used as reference works and study aids. Manhattan Review prides itself in employing a devoted group of student support professionals, who work to provide both students and teachers have everything they need for optimal teaching and learning.
About Manhattan Review's Founder Prof. Dr. Joern Meissner
Manhattan Review founder and CEO Joern Meissner has been a business school professor for over 25 years and has held faculty appointments at the Lancaster University Management School, University of Hamburg, the Leipzig Graduate School of Management, and the University of Mannheim. He holds a diploma in Business Management from the University of Hamburg and a PhD in Management Science from Columbia Business School in New York City. His well-regarded scholarly research focuses on supply chain management, dynamic pricing, and revenue management, and his work has been successfully published in many of the top journals in those fields. Meissner created Manhattan Review in 1999, and the firm quickly became the world's top international educational services company. Manhattan Review provides IELTS, TOEFL, ACT, SAT, GMAT, GRE, and LSAT preparation in various learning formats to thousands of students all over the world. Prof. Dr. Meissner thoroughly enjoys contributing to the body of knowledge as a scholar, but he has always found his efforts as a teacher to be even more rewarding. It should come as no surprise that this philosophy has always been the linchpin of Manhattan Review as an educational organization and provider of top tier academic services.
Hyderabad
Primary Course Venue:

Manhattan Review India – Andhra Pradesh, Hyderabad
402, Sundheer Tappani Towers
No 3-6-271
Opp: Telegu Academy
Andhra Pradesh, Hyderabad - 500 029

Manhattan Review India – Madhapur, Hyderabad
1-98/90/24/1/1, KSR Towers
(Beside Indian Oil Petrol Bunk)
Hitech City Road
Madhapur, Hyderabad – 500 081

NOTE: We do NOT typically have staff at the venue, so email us before visiting the venue.