Manhattan Review Scam in India
It has come to our attention that a scam operation poses as Manhattan Review in India. Customers are warned that this is not a sanctioned operation by Manhattan Review New York, so you will not get the quality instruction that is generally associated with Manhattan Review. Further, this fraudulent entity has started to offer "franchise opportunities." Please note that you are very likely to lose all investment if you engage with such a counterfeit operation that has no right to use the Manhattan Review name. We maintain a Manhattan Review India Scam FAQ, please visit there for further information.
ACT Coaching in New Delhi (National Capital Territory of Delhi, India)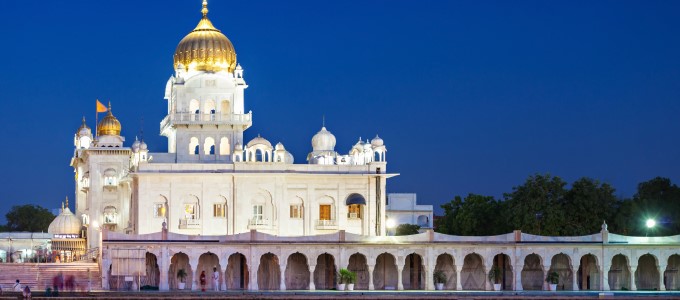 Manhattan Review ACT Coaching Centers in New Delhi
A high GPA is typically not enough to gain acceptance to an elite American university; upper-percentile standardized exam scores are necessary as well. Manhattan Review's New Delhi Coaching Centers provide a variety of ACT learning programs that consistently lead to high ACT scores. Our company is the optimal resource for one-on-one ACT coaching and on-site ACT courses in New Delhi, ACT learning plans in online interactive format, as well as ACT mock tests. Manhattan Review has been instructing the ACT since 1999, and thousands of our clients have eased admission to their favored American universities (such as Yale, Harvard, Princeton, MIT, the University of Michigan, Johns Hopkins, and Cornell). Some of our previous test prep students are now accomplished professionals working for the most successful companies in New Delhi, including National Textile Corporation, Jamna Auto Industries, Samtel Group, Action Group, and Lanco Infratech. Others have selected jobs at Fortune 500 firms, including Prudential Financial, Lockheed Martin, Microsoft, United Technologies, in addition to Express Scripts Holding. Begin your ACT learning plan in New Delhi right away with Manhattan Review.
Taken by over 2 million students annually, the ACT is an exam of reading, English, math, science, and writing skills. The median ACT total score is approximately 21 out of 36. Competitive applications to prestigious American universities generally feature ACT scores of 30 or higher, and the top-ranked schools often report average scores as high as 34. Manhattan Review's ACT prep private coaching and group courses assist New Delhi students in reaching elite ACT scores through multi-faceted and nuanced instruction that spans all sections of the ACT, and just as vitally, our students also learn strategies for organizing study plans and techniques to use while taking the exam. To get going on New Delhi's most effective ACT prep, contact Manhattan Review right away. We can talk about your learning requirements and test score goals either by phone, by email, or online. Let us help you select the best ACT option for you.
Manhattan Review's 'Turbocharge Your ACT' Series is the Best ACT Coaching Material Available
Written by test prep professionals with countless years of collective experience teaching the ACT, Manhattan Review's Turbocharge Your ACT is a series of books on individual ACT sections and discreet ACT skills. Manhattan Review authored and published this series to provide our students ACT texts that align with the high quality of all of our ACT curricula. The most recent edition of the Turbocharge Your ACT series has been updated and redesigned to implement forward-looking methodologies to the comprehensive cultivation of all pertinent ACT skills and the accomplishment of optimal ACT scores. Intended for ACT students at the beginning, intermediate, and advanced levels, our books meticulously guide test-takers through each phase of ACT preparation, featuring thorough dissections of all ACT sections, copious exercises for ACT practice, useful advice for test-takers, and accurate information on general ACT issues. Turbocharge Your ACT is the most effective series of ACT guides on the market today, and these books have added to to the success of thousands of test-takers. Don't entrust your test scores and university future to ACT books of lesser quality.
Why Manhattan Review ACT Coaching Centers are the Best in New Delhi
Countless students have chosen Manhattan Review's New Delhi Coaching Centers because we provide unmatched ACT learning programs that give way to highly favorable test score results. Our ACT services are distinguished by quality in every aspect of the ACT teaching and learning process. Manhattan Review has devised engaging methods of instruction through our original ideas on test prep, and our ACT classes and coaching plans are taught by the most credentialed and experienced ACT educators in New Delhi. Manhattan Review is a company primarily committed to teaching international students, and we have more experience with international student test prep than any other rival firm. New Delhi students can prepare for their best possible scores on all portions of the ACT at our easily located Coaching Centers, which have a full variety of versatile ACT study options and ancillary services. No other company can offer the memorable learning experiences and reliable ACT skill improvements provided by Manhattan Review.
About Manhattan Review's Founder Prof. Dr. Joern Meissner
Manhattan Review was established in New York City in 1999. Our founder Joern Meissner holds a diploma in Business Management from the University of Hamburg as well as a PhD in Management Science from Columbia Business School. Meissner has served on the faculties of Lancaster University Management School, the University of Mannheim, the University of Hamburg, and the Leipzig Graduate School of Management over a 25-year career in higher education. He instructs MBA electives and MBA core classes and has also developed new electives for graduate management programs. His academic writings have been published in the European Journal of Operations Research, Naval Research Logistics, Operations Research, and in several edited assortments. Manhattan Review teaches students all over the world (including in Indian cities such as New Delhi) how to attain high scores on the ACT, SAT, IELTS, TOEFL, GMAT, GRE, and LSAT. Our firm also offers application advising and admissions consulting services.
ACT Private Tutoring
Hours package 12 to 48 hours, Personalized 1-on-1 Tutoring, In Person or Live Online
ACT Private Course
12 hours in total, Personalized 1-on-1 Course, In Person or Live Online
New Delhi
Primary Course Venue:

Sheraton New Delhi
Saket District Centre
New Delhi 110017, India

NOTE: We do NOT typically have staff at the venue, so email us before visiting the venue.