Manhattan Review Scam in India
It has come to our attention that a scam operation poses as Manhattan Review in India. Customers are warned that this is not a sanctioned operation by Manhattan Review New York, so you will not get the quality instruction that is generally associated with Manhattan Review. Further, this fraudulent entity has started to offer "franchise opportunities." Please note that you are very likely to lose all investment if you engage with such a counterfeit operation that has no right to use the Manhattan Review name. We maintain a Manhattan Review India Scam FAQ, please visit there for further information.
SAT Coaching in New Delhi (National Capital Territory of Delhi, India)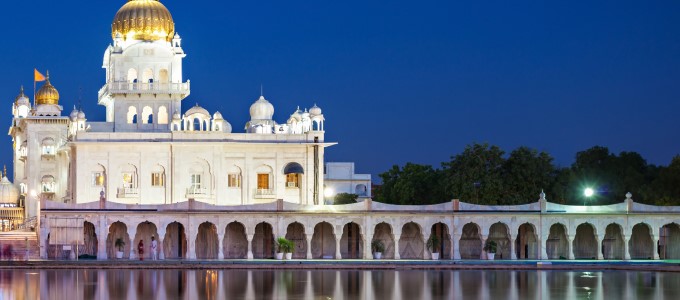 Manhattan Review SAT Coaching Centers in New Delhi
High SAT scores invariably enhance the likelihood of acceptance to selective American universities. New Delhi test-takers can attain their goals of outstanding SAT performance with the professional instruction offered by Manhattan Review's Coaching Centers. Learning plans possible at our New Delhi centers range from on-site SAT courses and one-on-one SAT coaching to online SAT instruction as well as SAT mock exams. Manhattan Review is a global test prep firm that has earned a strong reputation among educators, and we have been instructing the SAT since we were established in 1999. Thousands of students in dozens of countries have broadened their options for higher education through our test prep services. Manhattan Review is a worldwide firm that integrates the resources of a large company with the customized instruction of a local facility. Our SAT learning plans assist New Delhi residents in achieving all of their goals for higher education. Learn more about our SAT services by getting in touch with Manhattan Review in New Delhi right away.
The SAT has been provided in one form or another since the earlier part of the 20th century. The SAT is generally intended to assess applicants for undergraduate admission to universities in the United States, and it is available at test centers all over the globe (including many in India). The basic standard for college readiness is a score of 480 Evidence-Based Reading and Writing (EBRW) and a score of 530 Math (for a total score of 1010). Composite scores of 1400 or above are typically expected by the most elite American universities. Manhattan Review's SAT private coaching and SAT prep classes cultivate strong SAT performance by instructing our students how to become highly proficient in SAT study techniques, SAT content, and SAT testing strategies. Our students maximize their SAT skills, and by attaining high test scores, they give themselves a variety of options for undergraduate study. Manhattan Review's SAT learning plans for New Delhi students will help you turn into a more promising university applicant.
The Manhattan Review 'Turbocharge Your SAT' Series is Considered the Best SAT Coaching Material Available
SAT students must choose their course materials meticulously. Manhattan Review's Turbocharge Your SAT series gives our test prep clients and the general public the most thorough and effective SAT guidance possible. The series has aided thousands of students in enhancing their SAT skills, increase their SAT scores, and improve their general academic abilities. The most recent version of Turbocharge Your SAT is designed for use with the revised test, and the series integrates a number of new approaches and features. Turbocharge Your SAT helps students learn all vital verbal and math abilities at all levels of study from the most fundamental through the most advanced, with copious practice exercises, test-taking advice, and accessible breakdowns of all SAT content. The Turbocharge Your SAT series is used for group course, individual coaching, and private study plans by test-takers and test prep educators all over the world. Reasonably priced and widely available, the series may be obtained from bookstores or directly from Manhattan Review.
Why Manhattan Review SAT Coaching Centers are the Best in New Delhi
No other SAT preparation resource is as reliable and credible as Manhattan Review. We provide the most effective SAT coaching available in New Delhi, and this is because of the credentials of our instructors, the real originality of our instructional methodologies, the top tier quality of our course materials, and our overall commitment to the achievements of our students. Manhattan Review students have been accepted to great schools such as Princeton, Columbia, the University of Virginia, Harvard, Yale, the California Institute of Technology, Dartmouth, in addition to many more. Our former clients are successful upon graduation, and many of them have been hired by New Delhi companies and Fortune 500 firms, including Intex Technologies, Jindal Steel and Power, Moser Baer, Charuvi Design Labs, Prudential Financial, Enterprise Products Partners, United Continental Holdings, and Massachusetts Mutual Life Insurance. The scholastic and professional success of our SAT clients is strong evidence of the credibility of our teaching. Start building your future immediately in New Delhi with Manhattan Review's SAT services.
About Manhattan Review's Founder Prof. Dr. Joern Meissner
Manhattan Review founder Prof. Dr. Meissner has simultaneously pursued a career as an academic and educator in the field of management studies. He is a graduate of the University of Hamburg (diploma in Business Management) and Columbia Business School (PhD in Management Science). His research on dynamic pricing, supply chain management, and revenue management has been widely published, and he has instructed MBA courses at the Lancaster University Management School, the University of Hamburg, and the Leipzig Graduate School of Management. Manhattan Review specializes in test prep instruction for international students sitting for the SAT, ACT, LSAT, GRE, GMAT, IELTS, and TOEFL. We serve New Delhi and many other cities in India, and we are also a worldwide company with operations in African, South American, North American, Asian, and European countries.
SAT Private Tutoring
Hours package 12 to 48 hours, Personalized 1-on-1 Tutoring, In Person or Live Online
SAT Private Course
12 hours in total, Personalized 1-on-1 Course, In Person or Live Online

My instructor goes into detail with every problem. I left this SAT course with new material learned and easier ways to solve problems, which helped me out a lot. With the material I learned here I was able to up my math test scores.
- Shaniqua (This student took our SAT preparation course.)
New Delhi
Primary Course Venue:

Sheraton New Delhi
Saket District Centre
New Delhi 110017, India

NOTE: We do NOT typically have staff at the venue, so email us before visiting the venue.